Ferndown Drama Group
Ferndown Drama
Ferndown Drama Group
---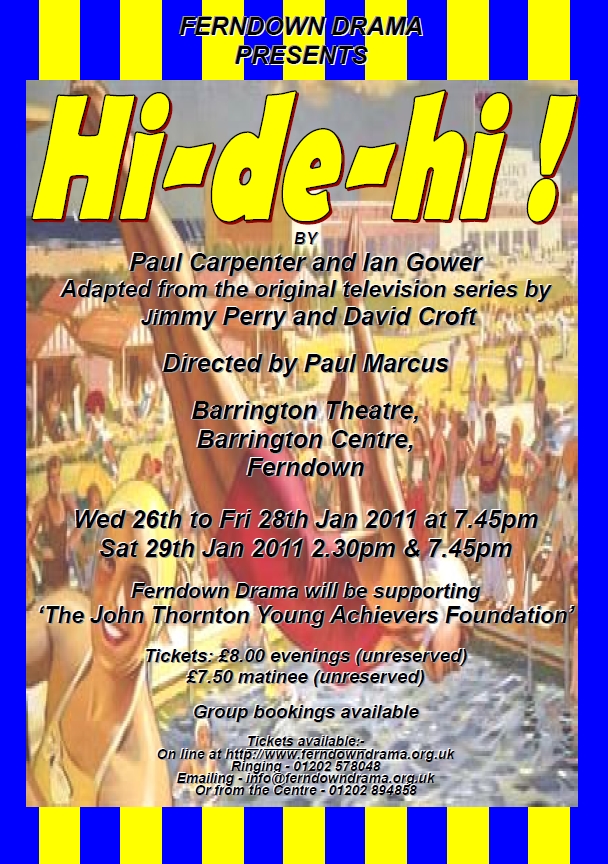 January production (January 26th - 29th 2011) - 'Hi - De - Hi' , a comedy by 'Paul Carpenter and Ian Gower'. Adapted from the original television series by 'Jimmy Perry and David Croft'. This production was directed by Paul Marcus.
CAST LIST

Gladys Pugh - Trish Binding
Betty Whistler - Sue Ginevra
Gary - Tom Bullock
Tracy Bentwood - Kimberley Scott
Peggy Ollerenshaw - Cathy Williamson
Jeffrey Fairbrother - Steve Hawker
Fred Quilly - Lee Tilson
Mr Partridge - Bob Johnson
Yvonne Stuart-Hargreaves - Dawn Hollington
Barry Stuart-Hargreaves - Kevin Dicker
Ted Bovis - Simon Hawker
Spike Dixon - Ryan Gregg
Sylvia Garnsey - Rebecca Christie
Hilary Bovis - Vicki Milner
Bailiff - Chris Allen
Mr Pritchard - Paul Marcus

'It is the start of a new season and founder Joe Maplin announces that he is setting up a camp in the Bahamas and needs female yellowcoats to go and work there. There is the usual rivalry between Sylvia and Gladys to go but in the meantime Peggy, the cleaner, sees her opportunity to fill in the vacancy of new yellowcoat and tries to convince the Entertainments Manager that she is the ideal candidate.
Hi De Hi'.
3 Reviews
173 Photos
---